AUTO STEERING

EFFICIENCY, ECONOMY, PRODUCTIVITY
Topcon guidance systems point you on the right path to increased productivity with easy expandability as your needs grow.
Efficiency
Automatic driving with total precision on straights, curves and turns, even on difficult terrain.
-$
Economy
Avoid overlapping, resulting in considerable savings in inputs.
Productivity
It makes it possible to increase the working hours per day, because it reduces operator fatigue.
Precision
It allows you to choose between 5 maximum precision corrected signals, according to your needs.
Simplicity
Simple to set up, these guidance systems are easy to learn, easy to use, and easy to upgrade as farming needs grow.
Future-proof power steering and positioning data
The Auto Steering options are: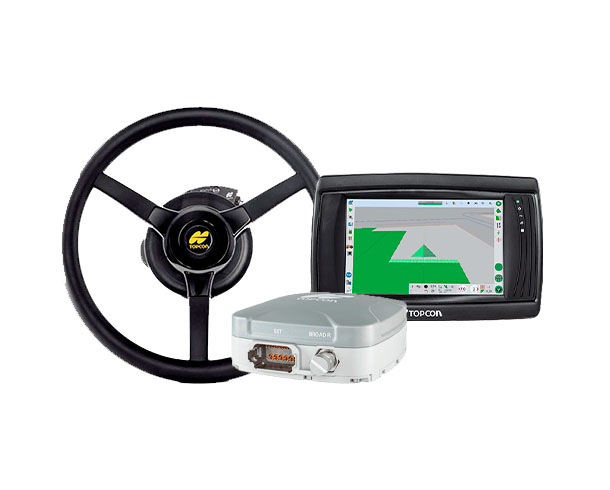 Electric Auto Steering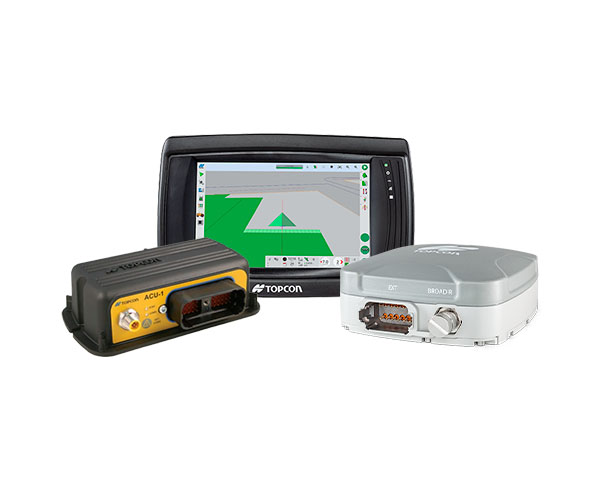 Hydraulic Auto Steering
AGS-2:

Receiver, controller and ground compensator

With an innovative design, the AGS-2 is Topcon's new antenna with built-in pilot module.

It has new corrected TopNET signals:

StarPoint: Lower cost enhanced signal;
StarPoint Pro: Corrected signal with higher repeatable satellite precision, with a margin of error of less than 4cm.

Combined with Topcon's premium user interface via Horizon OS software and X consoles, the AGS-2 receiver is ideal for any application requiring power steering, plus offers the benefit of positioning data for use. in associated tasks.

Allows you to enable a feature called Skybridge, providing better satellite tracking and RTK hover transitions for consistent accuracy in challenging conditions.

RTK: Real-time positioning by base station, with a repeatable precision of 2.5 cm.
RTK + Skybridge: Providing better satellite tracking and RTK floating transitions for consistent accuracy in challenging conditions.
CONSOLAS X:

Robustness and sophisticated functionality that boost your productivity

Multitouch Consoles

All X Family consoles (X25 8.4"; XD 7" and XD+ 12.1") use Horizon software, making the transition between models much easier. Likewise, all the screens are compatible with the same components, such as: wiring, communication module, receivers/controllers, electric motor and valve, and have a connection to the remote technical assistance modem.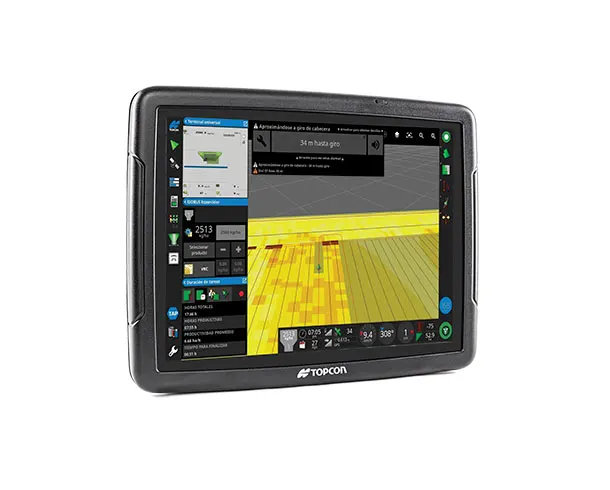 Optional for all auto steering models:
Auto turn in headlands:
Efficient layout, perfect turns
The automatic headland turning feature of Topcon auto steering increases productivity. With a highly effective layout, this feature reduces downtime during turning and ensures accurate entry of the implement into the ground. The Headland Turn feature can be enabled on all Topcon auto steering. It decreases from 30 to 35% the area required to complete perfect turns, reducing overlaps and omissions, saving inputs.
AVAILABLE MODELS OF AUTO STEERING
AES-35 Electric Auto Steering
Hydraulic Auto Steering
Electric Auto Steering

HYDRAULIC PERFORMANCE IN AN ELECTRICAL PACKAGE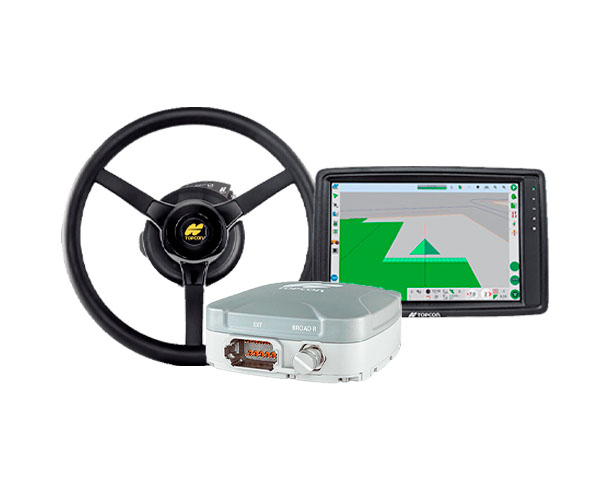 AES-35 Electric Auto Steering
The AES-35 provides 98% performance of a hydraulic system with the convenience of being electric; It should also be noted that it is very easy to transfer to other machines, thus offering the best performance in its category.
The AES-35 Precise Electric Steering System takes steering to the next level. It offers basic guidance to those looking for highly accurate results. Outdoor-ready and fully functional in open-cab environments, the AES-35 offers high performance in a universal, electrical package.
SOLID FUNCTIONALITY
01
Electric Motor
High torque electric motor, with which you can go forward and backward;
02
Highly Silent
Highly quiet with operation without noise or vibrations;
03
Electrical Performance
Industry leading high/low speed electrical performance;
04
Positioning Signal
Precision RTK positioning signal (2 cm repeatability, pass-to-pass)
05
Angle Sensor
Optional wheel angle sensor for improved performance, ideal for curve mode work and headland turning function.
Hydraulic Auto Steering

SMARTER AND SAFER STEERING
For tractors WITHOUT hydraulic from Factory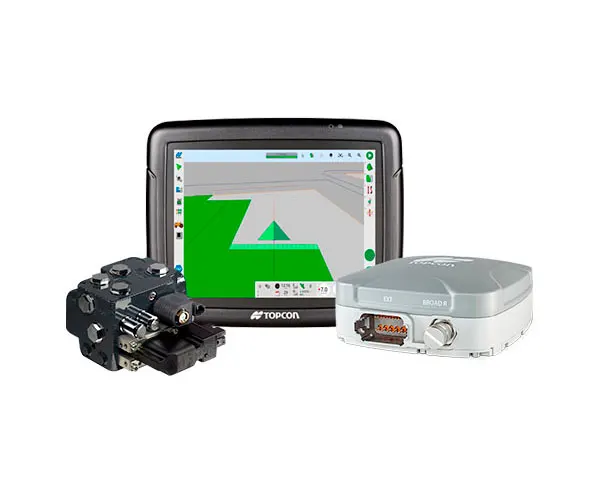 EHI Auto Steering
TOPCON redefines the flexibility of hydraulic auto steering with innovative technology and an integrated anti-shock valve. Small, quiet, and with sensorless internal decoupling, the EHi SD valve offers high speed line acquisition and response.
The great differential of this equipment is the high-precision ground compensator of the AGS-2 receivers, together with the EHi intelligent steering valve that provide, smoothly and quickly, a proportional reaction to changes in ground and speed conditions.
The system automatically adjusts for the best performance of each operation during the job.
For tractors WITH hydraulics from Factory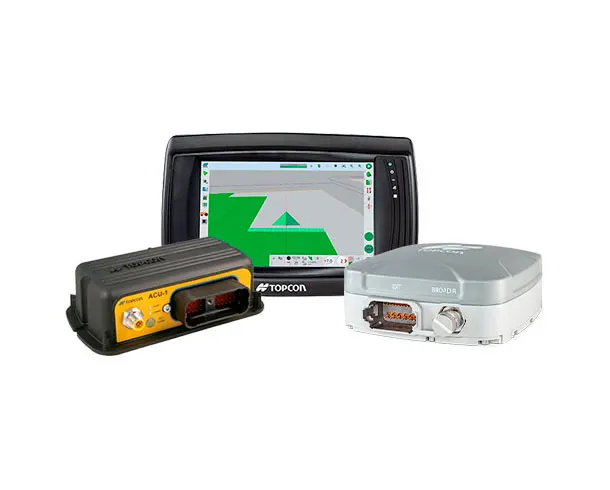 Ready CNH/JD/AGCO Auto Steering
They can be installed on Massey Ferguson, Valtra, Case, New Holland, John Deere and other brands with original factory hydraulics.
Now, Líder MAP technicians can control, diagnose and even solve problems remotely, intervening directly on the consoles as if they were in the cabin, reducing waiting time for technical service, machine downtime and extra costs.